guineapigpeanut
for sharing Lily's story
.
Lily got to see a vet today and has had an exam, bloodwork and x-rays. She's been vaccinated and tested negative for FLV.
All good things.
Despite her injured leg, she is a healthy and incredibly friendly kitten. My sister said the vet had a hard time hearing her heartbeat because she was purring so loudly.
Now, here's the crazy part.
If you get angry easily, you better sit down for this.
The problem with her leg?
She was shot. Her tiny leg is full of shrapnel from the elbow joint down. It's likely she'll have to have it amputated.
I have no words. A kitten. SHOT.
She will have a consultation with an orthopedic surgeons soon to see what, if anything, can be done for her leg. The current estimate for surgery is $1500. That is just the surgery and does not include today's exam and tests or having her spayed, which sounds like it will have to be after her leg has healed.
In defiance of the completely heartless idiot did this to her, we will do our best to put this right. My sister and her husband are keeping Lily. She has a good home, now we just need to help her get the care she needs. I have pledged to help my sister and her hubby in any way I can so we can help Lily get better and have a healthier, happier life. Altogether, her fees look to be in the $2000 range. She is young, and other than her injury, she is healthy, and she is undeniably a people cat and is already responding well to the love and care she's receiving.
To every single person that has already donated to help Lily,
I thank you and my sister sends her thanks
. I can't even begin to express in words how much your generosity means to us. We've already raised $140 towards Lily's care, and that is in less than 24 hours. YOU ALL ROCK.
If you're just now finding this story and want to hear the beginning OR make a donation, you can click here for more information.
I'd like to come up with some other ways to help Lily. If you have a suggestion of something that we can do, please let me know.
A huge thank you goes out to
Hey all! I'm looking for a pattern for a dog costume that I can alter to be a Michael Jackson costume (waiting on the client to tell me which but I'm guessing the one from Thriller)
If anyone has a patterns I could print out or could direct me to one it would be so awesome! Thanks!
(I have cross-posted this to Holiday_Crafts/Critter_Country)
Posted via LiveJournal app for iPhone.
This is Emmett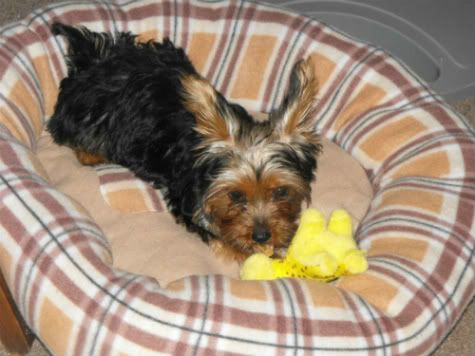 He's a 4 month old Yorkie. He's always looking for something to get into and chew on. But he has such a good and quirky little personality. I haven't even had him a week yet but I'm so in love with this dog! Look at that little face, how could anyone not love it? :)
I made an intro post a few weeks ago when I first joined. But since then I've added a new addition to my furry family :)
I haven't seen any pictures lately so I thought I'd show you this little guy I met the other day. He's shy so I can't tell you his name...




Current Location:

Mohegan Park

Current Mood:

amused

Current Music:

Alvin
One morning last year I drove up to busy intersection and seen this baby Skunk in the middle of the road shaking and confused. The little guy didn't know where to go...So with cars going by...I stopped in front of the little guy put my flashers on and grabbed my camera. To pick up a Skunk is simple. You grab the tail and pick it up...That's it..I put him down carefully standing in front of him and took his picture,,The little guy hissed at me a few times and slowly walked in the woods...My thought was I hope he finds his mama....
Current Mood:

amused